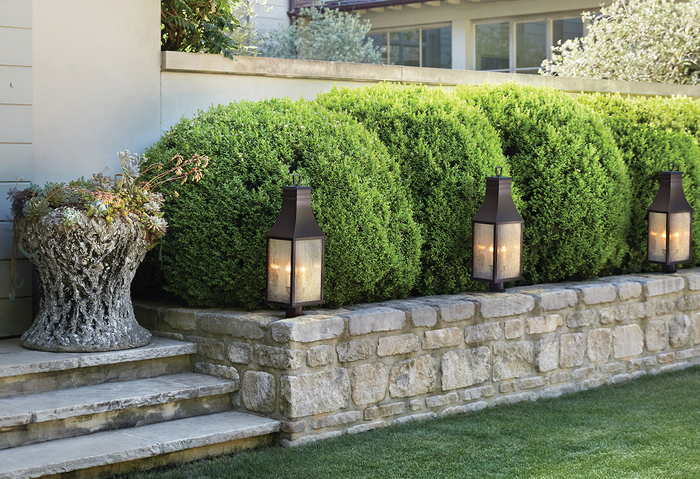 First impressions are important, and the entryway into your home can say so much about you and your style. Invite people in with a flair. The perfect exterior lighting fixture choice will make those first impressions safe and stylish. It's simpler than you think.
Here at Carol's Lighting, a local lighting store located in Conroe and Humble, Texas, we offer the best exterior lighting for your needs. Whether you are looking to have a more inviting home, add security, or boost curb appeal, we can help. Stop by today!
Exterior lighting is a great way to add visual interest and security to the outside of your home or office space. It can also enhance the beauty of your home and garden, while providing a practical purpose. There are many types of exterior lighting available. Below are some of our options:
Consider function: When choosing exterior lighting, consider what you need it to do. Do you want to illuminate your driveway, provide security lighting, or just add ambiance to your outdoor space?
Think about your style: Exterior lighting comes in all shapes and sizes, so you can find something that complements your home's style. Consider things like the color, size, and shape of the fixtures.
Choose the right materials: Make sure the materials you choose for your exterior lighting can stand up to weather and temperature changes. Look for fixtures that are made of durable materials like brass, copper, and stainless steel.
Consider the wattage: The wattage of your exterior lighting fixtures will determine how much light they emit. Choose fixtures with the appropriate wattage for the area you want to light.
Take into account the area: Make sure you choose appropriate lighting for your outdoor space. For instance, if you want to light a large area, you may need multiple fixtures.
Consider energy efficiency: Look for lighting fixtures that are Energy-Star rated. These are more energy-efficient and will help you save money on your energy bills.
Don't forget safety: Make sure your lighting is safe. Install motion-sensor lights to help prevent intruders and look for fixtures with a UL rating.
Safety: Exterior lighting is essential for providing visibility and security to a property. As well as providing more visibility to your home or business, it can be a deterrent to potential criminals. Having outdoor lighting will also make it easier to find your way around your property in the dark.
Curb appeal: Exterior lighting can be an attractive addition to any home or business. It can provide an inviting and attractive atmosphere that makes a good impression on visitors. In addition, well-placed lighting can highlight the best features of your home or business and make it look more attractive.
Energy savings: Using energy-efficient exterior lighting can help save on your electricity bill. LED lights are a great option as they are more efficient and can last much longer than traditional bulbs. They also generate less heat, which can help keep your property cooler in the summer.
Automation: Exterior lighting can be automated to turn on and off at certain times. This is a great way to save energy and money, as well as ensuring the lights are always on when you need them. Automated lighting can also be programmed to turn on when motion is detected, making it an excellent option for security purposes.
Entertaining: Exterior lighting can be a great way to create an inviting atmosphere for entertaining guests. Whether you're having a backyard barbecue or a romantic evening under the stars, you can use exterior lighting to create the perfect ambiance.